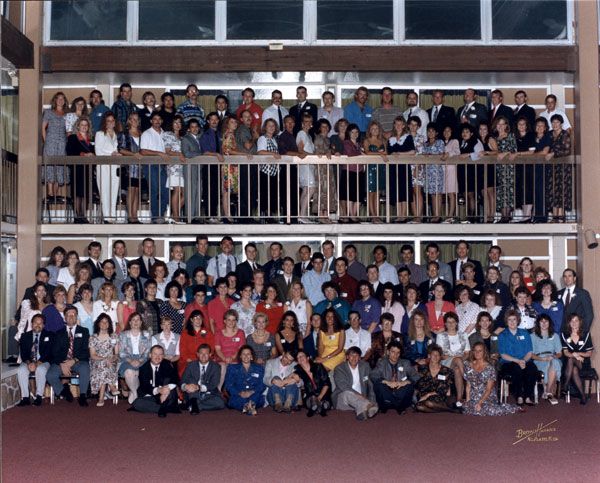 Schedule of Events for the 10th Reunion:
Friday, July 9th, 1993
8:00 pm to 1:00 pm
Informal get-together at the Lincoln County Fairgrounds Building.
Saturday, July 10th, 1993
Morning Golf Tournament
6:00 pm to 7:00 pm
Happy Hour at the Holiday Inn
7:00 pm
Class Picture
7:15 pm
Formal banquet dinner and brief program at the Holiday Inn followed by music and dancing.
Sunday, July 11th, 1993
11:00 am
"Family Fun Day" at Holiday Travel Park (next to Cody Go-Carts.)
Special Awards:
Changed the Least - Jill Ward received a book on "growing up" to help her adequately prepare for the 20th reunion.
Married the Longest - Tammy Stone (January 8, 1983). Tammy was awarded a special edition of Dr. Ruth's book, "Bringing Life to a Sexless Marriage".
Most Kids - Tie, Chris Wood and Lisa Murdock, each with 5 children. Chris and Lisa were awarded a year's supply of condoms.
Most Dramatic Hair Loss - Doug States received a hair net and a brush in memory of the "good old days." NOTE: Bernie Madison was disqualified because he had already lost most of his hair by the time we graduated.
Improved With Age- John Homan received a bottle of wine for his graceful ascent toward 30.
Still Crazy After All These Years - Bernie Madison. Hopefully Bernie will never grow up.
Mellowed the Most - Vangie Linsted Steward was given an ample supply of No-Doz to help keep the crazy days in check.
Barely Recognizable - Mike Olson received a Dead Kennedy's t-shirt to go with his three piece suit and reinstate the classic panache he once knew.
Traveling the Furthest - David Surber made it back to North Platte from his residence in Japan. He was awarded a compass to help find his way home.
Most Unique Occupation - Jana Gillaspie works as a "Prestress Erection" specialist for Rocky Mountain Prestress in Westminster CO. She received a career handbook to help plan her next career move.